The nominating committee shall nominate one candidate for each office to be filled at the next convention. Diversity, PTA knowledge, commitment, and professional expertise shall be guiding principles when making nominations and appointments. The committee shall send the report of the nominations to the state PTA office to be forwarded to each member of the board of directors, and to each council and local PTA president, at least thirty (30) days before Massachusetts PTA Annual Convention. The committee shall report to the convention at the first general session, at which time additional nominations may be made from the floor provided the consent of the nominee has been secured in writing."
The 2022 Massachusetts PTA Nominating Committee is proud to announce the 2022 Slate of Candidates. Candidates are selected based on their competencies as demonstrated in their Letter of Interest application and interviews.
---
President-elect – Kathresha Cureton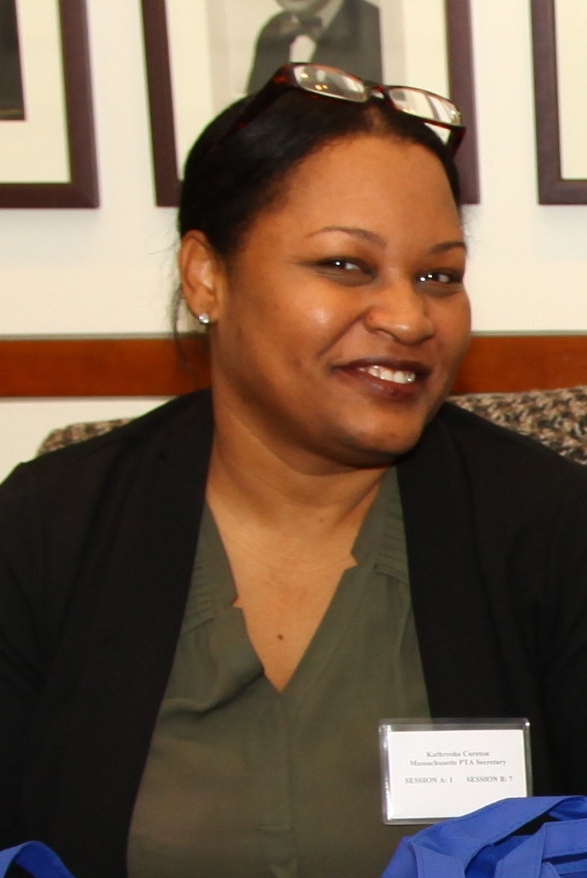 Kathresha Cureton currently serves on the Massachusetts PTA Board of Directors, and as a member of the Health, Safety and Wellness Committee. Kathresha draws from experience with more than 15 years in Health and Human Services, and earlier in her career, management, public affairs and outreach. She studied Psychology from the School of Social Behavioral Sciences at Mercy College and Art and Design from the School of Design at Pratt Institute. Active in the community, she served at the local level as a member on both Elementary and Middle School Councils; as the Middle/High School Vice President, PTA and Reflections Chair. She is a PTA Art Coordinator for the Hopkinton Elementary Schools, has volunteered in several other committees and civic leadership positions at every level.
With over 8 years of leadership experience she has also been involved in working as a liaison with support for parents and students including school programs, education and advocating for children. She continues to advance her training by attending conferences, seminars and workshops on both health and educational topics; including her passion for the arts.
Her children attend Hopkinton School District. We are very pleased to have her join our Leadership Team at Massachusetts PTA. "Life is never so busy that there is no time to help others."
---
Vice President of Leadership – Christine Blinn
Christine serves as an Advisory Comittee member and is the current President for Old Sturbridge Academy PTSA. She previously served as Vice President, and was a founding board member of OSA PTSA.
Christine is a proud wife and mother to 3 children who are the reason she became so active in the PTSA and the Advisory Committee at their school. While serving on the PTSA Christine has worked hard on increasing membership and growing her local unit each year. When stepping into the role of President she dived into the trainings and webinars offered by the Massachusetts PTA to learn as much as she could about the true mission and values of the PTA, and bring those back to her local unit. She has played a role in increasing knowledge on the true mission of the PTA in her local unit and has also been working on getting a DEIA comittee started.
Personally she has a passion for advocacy and is very excited to begin working with the Massachusetts PTA.
---
Secretary – Christopher Gusman
Christopher Gusmán has over 25 years of experience in education. In addition to classroom teaching, his experience includes administration of regular, special, and alternative education. His undergraduate studies focused on mathematics and education. He received his Master's Degree from the University of Texas in the field of Educational Leadership and Policy Studies and doctoral studies focus on special education and equity. As an educator, he served as a National Science Foundation Mentor Teacher, Massachusetts Teacher Association Board member, and is actively involved in equity leadership programs. His use of technology integration and communication, in and out of the classroom, provided students the ability to have equitable footing and an inclusive classroom where academic and social emotional learning occurred.
---
Treasurer – Open, taking nominations from the floor at Annual Meeting on April 9, 2022 at the John Carver Inn in Plymouth, MA.