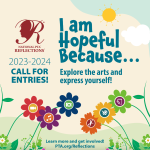 Give students confidence in their abilities to explore ideas and learn through the arts!
Each year hundreds of thousands of students in preschool through grade 12 create and submit original works in the areas of dance choreography, film production, literature, music composition, photography and visual arts. Students may participate in the national awards program through their school's PTA.
The 2023-2024 theme "I am Hopeful Because…" will spark imagination and creativity in school and at home. Encourage your school to imagine, create and celebrate with Reflections during National Arts & Humanities Month this October.
Learn more about the National Reflections Program and how to participate in the program here.
---
Contact the Massachusetts PTA at info@masspta.org if you are interested in becoming a Local Reflections Leader or joining the Massachusetts PTA Reflections as chair or committee member!