Sessions – 2018 MA PTA Convention
Join us for "Celebrating the Past Shaping the Future!"
April 7, 2018 – Whether you are looking for ways to diversify your PTA's leadership, increase interest in local PTA events, find no-hassle fundraising ideas or increase and diversify your membership and volunteer leaders, the 2018 MA PTA Convention has opportunities for you to discover it all.
You will come to Convention knowing what you do at your school and PTA. But you will leave Convention thinking healthier about the possibilities for your school and PTA, as well as your own leadership abilities.
Workshops will deliver proven ways to:
Communicate effectively with all stakeholders
Engage and empower parents to support student success and overall well-being
Advocate for the needs of every child in your school, community or state
Develop partnerships that support growth and mission implementation
Plan Your Workshop Sessions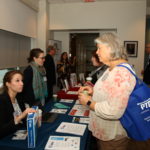 Browse the catalog of workshop sessions below to plan your itinerary. All workshops will be open seating.
10:30 a.m. – 12:00 p.m. Session 1 Choice
Minding Your Mind Just Talk About It-Youth Mental Health Education

This interactive, clinician-led training is an introduction to mental health, which is designed to train both adults​ and youth on how to recognize the warning signs of stress, anxiety, depression, and crisis. Just Talk About It will educate adolescents and the adults who support them to look beyond stigma and notice warning signs. Just Talk About​ It has been approved by the Best Practices National Registry, Section III: Adherence to Standards, which is​ required suicide prevention training in many states.

About Minding Your Mind

Minding Your Mind's (MYM) primary objective is to reduce the stigma and destructive behaviors often associated with mental health issues by providing evidence-based mental health education to adolescents, teens and young adults, their parents, teachers, school administrators, and interested professionals and community organizations. By increasing help-seeking behavior, MYM moves away from crisis-based response to prevention. To learn how you can bring Minding Your Mind to your school or organization contact Jan Latorre-Stiller at

781-285-6696

or at

jan@mindingyourmind.org www.mindingyourmind.org

"21st Century Education: Opening Doors to Career Readiness": Anthony Marullo, Regional Admissions Director for Universal Technical Institute 


It's important for students to weigh their passions and opportunities when evaluating the many education options and career paths available to them after they graduate from high school. This workshop will highlight the key factors to consider before deciding which direction to take, and will help parents assess which education options career opportunities best match their child's interests and learning styles. Discussion will include an overview of today's workforce needs and where it's headed, and real-world applications of STEM in growth industries including the skilled trades. 
2:45 p.m. – 3:45 p.m. Session 2
 Social-Emotional Learning PreK-12 – What, How, and Why Now

We'll explore social-emotional learning (SEL) – what it is and what it looks like when implemented at all school levels. We'll discuss how PTAs can support SEL at school and at home. Bring your questions about SEL! We'll clarify, give examples, and share research. Whether you're interested in SEL from a parent skill-building perspective, a school safety perspective, a mental health perspective, an academic achievement perspective, a diverse, democratic society perspective, or for lots of other relevant reasons, we're at an important moment to advance SEL in our schools and communities.

"Amplifying Your Voice through PTA's Advocacy Priorities": Marcus Ivey, National PTA Vice President for Advocacy
Why, as a PTA member, should you continue to grow as an advocate? PTA members have an expertise unlike many others. You are on the ground level and PTA members know what works and what doesn't work within their communities. PTA members know firsthand what students with disabilities, poor students and minority students experience everyday at school. You know what your teachers and school administrators need to be successful and whether they have all of the tools to ensure that every child is getting the education they deserve.As a PTA member, you are a part of an association that is unlike other advocacy associations. National PTA and your priorities are to work on behalf of all students, families and schools. You do not have an ulterior motive or hidden agenda. Rather, you know and advocate for what's best for students and families in your community giving you credibility that many others cannot obtain.Finally, we need as many voices as possible to ensure our mission is heard loud and clear, to make sure every child reaches his or her full potential. As a PTA member, you have the opportunity to make a difference in your schools and communities to ensure that families' and students' voices are heard over noise.
4:00 p.m. – 5:00 p.m. General Session 
Bylaws  
Bylaws govern an organization's operations and contain the basic rules relating principally to itself as an association.The MA PTA bylaws outline the basic purpose of PTA, lists basic policies of the MA PTA association and provides a structure for how the PTA association is set up.The bylaws also provide information on MA PTA committee structure, the annual convention and amendment process.These are the current MAPTA Bylaws2015 (1) adopted 4/12/2015.
Elections  
MA PTA elections are held at our annual convention. The next elections will be in Westborough, April 7, 2018. View the 2018 Slate of Nominees. Candidates are selected based on their competencies as demonstrated in their Letter of Interest application, interview and reference feedback. The Nominating Committee developed Competencies and Criteria for MA PTA Leadership based on a needs assessment and leadership feedback.Four Officers are elected every two years defined in the MA PTA Bylaws. Elected Officers are President-Elect, Vice President of Membership, Treasurer, and Secretary.For a description of leadership responsibilities, please review the MAPTA Bylaws2015 (1).To learn about our election process and bylaws and policies, contact info@masspta.org..