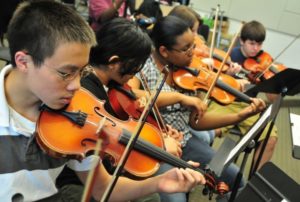 (Springfield, MA) – The Mass Cultural Council is pleased to announce a $10,000 gift from the Gustavo Dudamel Foundation to deepen its support of creative youth development and music education.
Elected officials and cultural leaders from the Springfield region joined Mass Cultural Council and Springfield Public Schools students, teachers, and administrators at the Community Music School of Springfield today to announce the grant. The Schools' partnership program, Sonido Música uses intensive, ensemble music to strengthen academic and social-emotional learning, and empowers a new generation of young people to work for social justice. Inspired by the Venezuelan El Sistema model, the program is funded through Mass Cultural Council's SerHacer Program.
"Music and the arts are central to a complete education," said Springfield Mayor Domenic J. Sarno, who also serves as Chair of the School Committee. "The Community Music School brings together students and families of all backgrounds to learn and grow through music making. We're delighted to be a showcase for the work that the Mass Cultural Council and the Dudamel Foundation support."
Established by Venezuelan-born conductor, Gustavo Dudamel, the Gustavo Dudamel Foundation is dedicated to supporting the arts and music education as catalysts in promoting a more compassionate and just society. "Music is unique in its power to unite and inspire," said Dudamel. "By playing and listening together, music teaches discipline, cooperation, and an appreciation for beauty that enriches lives and binds communities. I am very pleased to collaborate with the Mass Cultural Council in expanding opportunities for children from diverse communities to be empowered through music."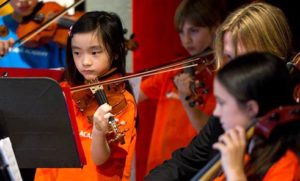 The Foundation's grant to Mass Cultural Council will supplement the state agency's support of 18 El Sistema-inspired youth music ensembles across Massachusetts, and helped to underwrite a student performance supported by the Boston Philharmonic Orchestra and Conservatory Lab Charter School in Boston this past Saturday. SerHacer provides three-year, $15,000 annual grants to each of these programs, provides an instrument library through the Johnson String Project so all youth have quality instruments, and funds a three-year research study that seeks to document the impact of the El Sistema model on the lives of young people.
Mass Cultural Council Program Manager Rodrigo Guerrero said the Dudamel grant is another sign that Massachusetts is leading the way in creative youth development, an intentional practice that fosters active creative expression through the arts, humanities, and sciences, while developing core social, emotional, and life skills, for youth of all ages. Creative youth development approaches young people as active agents in their own growth, with inherent strengths and skills to be developed and nurtured. The overall goal is for culture to play a major role in supporting the growth of creative, productive, and independent citizens and thriving communities.
Recently 18 students from Massachusetts were selected to perform with Dudamel as part of the inaugural National Take a Stand Festival, a prestigious music camp hosted by the Los Angeles Philharmonic in partnership with Bard College and the Longy School of Music of Bard College. After a week of intense study, students will perform with Dudamel at the Walt Disney Concert Hall on July 22.
"We are grateful to the Dudamel Foundation for its vote of confidence in the Mass Cultural Council and, more importantly, the incredible work that the young people and educators in our SerHacer Programs are doing across the Commonwealth," said Guerrero.
Mass Cultural Council has been a national leader in this work for more than two decades. Its YouthReach Program integrates substantive out-of-school arts learning opportunities into a collaborative community response to the needs of young people – especially at-risk youth. More than 40 YouthReach programs have been honored over the years with National Arts & Humanities Youth Program awards from the President's Committee on the Arts and Humanities. In 2014, Mass Cultural Council hosted the National Summit on Creative Youth Development, which shone a national spotlight on the work of YouthReach and generated an ongoing national partnership between Mass Cultural Council, the National Guild for Community Arts Education, the President's Committee on the Arts and Humanities, and Americans for the Arts. Later that year Massachusetts became the first state in the nation to create a public support system for El Sistema-inspired work via SerHacer.
"The arts are essential to a well-rounded education, and the Community Music School is a cornerstone of arts education in Springfield. The Dudamel Foundation is yet another partner who has noticed the great things happening here and wants to help build on them," said Senator Eric P. Lesser. "I am glad that the State Senate is a strong supporter of our arts programs, and I will work to continue that support for programs that are shaping and changing young people's lives."
---
Mass Cultural Council is a state agency supporting the arts, sciences, and humanities, to improve the quality of life in Massachusetts and its communities. It pursues its mission through a combination of grants, services, and advocacy for nonprofit cultural organizations, schools, communities, and artists. Mass Cultural Council also runs the Massachusetts Cultural Facilities Fund in partnership with MassDevelopment. For questions regarding this press release, contact Gregory Liakos, Communications Director, 617-858-2720.