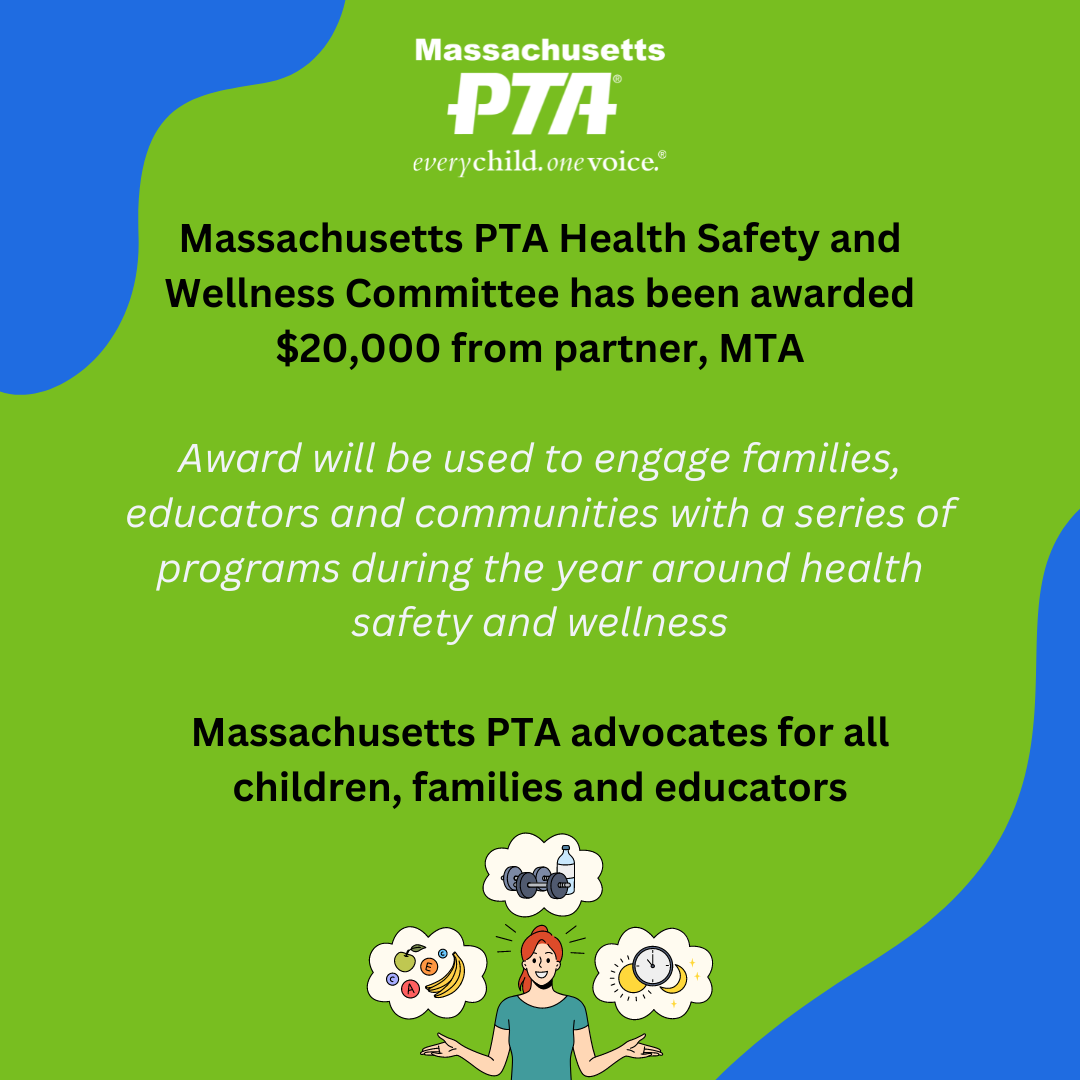 Massachusetts PTA Health Safety and Wellness Committee has been awarded $20,000
Award will be used to engage families, educators and communities with a series of
programs during the year around health safety and wellness
Massachusetts PTA advocates for all children, families and educators
[Lexington, MA, February 20, 2023] – Massachusetts Parent Teacher Association (PTA) is
proud to announce the receipt of the Massachusetts Teachers Association's (MTA) Public
Relations/Organizing Committee Grant by our MA PTA Health, Safety and Wellness
Committee. The grant award in the amount of $20,000 will provide engaging programs around
health, safety and wellness for families, teachers, students and community members here in
Massachusetts.
The MTA Public Relations/Organizing Campaign Committee supports MTA organizing and
coalition-building efforts and promotes the activities and successes of educators and public
education at all levels.
With this grant award from the MTA, the MA PTA will provide a full year of statewide,
comprehensive health, safety and wellness programming titled "Healthy Living for Everyone, a
Unified Voice". Programming will include three virtual and hybrid events spaced throughout
2023-2024 as well as our Fifth Health Symposium scheduled for November 2023 addressing
health-specific needs and concerns in our Massachusetts communities including but not
limited to, healthcare equity and access, food insecurity and nutrition, mental health and well-
being, and physical fitness and heart health.
"As a 100% volunteer non-profit, we could not be more appreciative of this grant and our
partnership with the MTA" said Karen DeRoche, MA PTA President, "as an advocacy
association one of our highest priorities is the health, safety and well-being of our children,
their families, teachers and communities. Without the support of partners like the MTA, these
programs would not be possible." MA PTA has a long history of engaging and supporting
health related topics. For more information on the Health Safety and Wellness Committee's
2022-2024 Goals and Objects along with information on upcoming programming please visit
www.masspta.org.
We look forward to our continued collaboration with the Massachusetts Teachers Association
(MTA) supporting the well-being of our students, families, teachers, and communities.
The Massachusetts Parent Teacher Association has for 112 years advocated for children and
families and our mission remains as important today as it did when we were founded: to make
every child's potential a reality by engaging and empowering families and communities to
advocate for all children.