In-person or Virtual Session Saturday, April 1st
Check Out Our Speakers for the 2023 Convention
Speakers are listed alphabetically by last name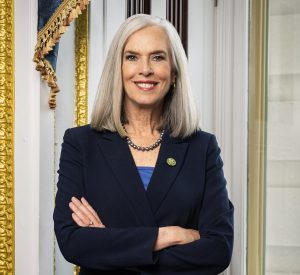 Representative Katherine Clark, Massachusetts Congresswoman
Since 2013, Katherine Clark has proudly represented Massachusetts' vibrant Fifth District, which stretches from the coastal communities of Revere and Winthrop through the northern Boston suburbs to the thriving towns of MetroWest.
In the fall of 2022, Clark was elected by her colleagues to serve as Democratic Whip – the second most senior position in the House Democratic Caucus. She previously served as Assistant Speaker of the House, as Vice Chair of the House Democratic Caucus, and as a senior member of the House Appropriations Committee.
One of only two women to ever serve as Whip, she currently has the distinction of being the highest-ranking woman in Congressional leadership.
From the school board to Capitol Hill, Clark's public service has been fueled by a passion for lifting up women and families. She is a leading proponent for ending wage discrimination; safeguarding access to abortion; ending gun violence; improving access to affordable, accessible child care; and guaranteeing paid leave.
Before her election to Congress, Clark served her community in elected office as a state senator, state representative, and member of the Melrose School Committee. She also served as general counsel for the Massachusetts Office of Child Care Services and as policy chief for the Massachusetts Attorney General.
She lives in Revere with her husband and has three children.
---
Cecily Goulange, PTA State Field Ambassador
National PTA has selected Cecily to serve in this role for National PTA and is praised for being a "passionate communicator & community builder. Building relationships and helping people reach their potential is a hallmark of her career and personal life. She is the president of Farmington River Elementary where she has led YOY growth in membership, developed critical partnerships within the administration and staff, and championed programs that build community within the school district."
Cecily will be part of a pilot group of volunteers to help us raise visibility of our PTA Connected programs and resources.
---
Kimberly Redlon, Every Child Can Achieve, Educational Consultation
Presenting on Saturday, April 1, 2023, Session ; Special Educations Programs
Kimberly is a certified Special Education teacher of severe disabilities, parent of 4 children (3 of whom received special education services through IEPs) for which her company is named after – Emily, Caleb, Collin, Ava- and a Special Education Administrator for a public school district. She has experience in all three areas of the special education arena – parent, teacher, and administrator.
Kimberly has overseen both substantially separate and inclusive programming, as well as reviewed and written Individual Education Plans (IEPs) for over 15 years. She has provided direct service to children and consultative training for parents and educators on disability awareness as well as how to teach students with disabilities.
---
Jasmin Rivas, Old Sturbridge Village Director of Diversity, Equity, Inclusion and Access
Jasmin Rivas is a mother, Latina, community activist, and poet, who lives in Southbridge. She was a founding board member of Old Sturbridge
Academy Charter Public School before joining Old Sturbridge Village as its first director of diversity, equity, inclusion and access. She holds a
BA in English with a minor in communications from Worcester State University and an MFA in creative writing from Bay Path University. She
was inspired by her fifth grade teacher at Charlton Street School to become a writer so she could help people in her community by sharing their stories and giving them a voice. She's done that throughout the years as a reporter, victim advocate, grant writer, health educator, family
liaison, after-school program administrator, yoga instructor and Town Councilor. She is passionate about developing spaces where people feel they belong and are valued. Ms. Rivas believes that by sharing our stories we can come together to learn about each other and understand how we each contribute to our community. In her various roles, Ms. Rivas works to bring people with different perspectives together to build trust and foster respect so that the world can heal from its collective wounds and we can all live in a better place.
---
Please check back or contact convention@masspta.org for more information about scheduled events.