Massachusetts PTA is proud to share with you another amazing opportunity that two our members were able to attend. National PTA hosted a Youth Advocacy Summit in Washington, D.C. and both Madison Estes, who is on the National PTA Youth Committee, and Victoria Gray, who was selected as a scholarship recipient by National PTA, attended. As part of the program National PTA held workshops on how to advocate for your cause by meeting with legislators, how to present your "ask", and what bills that are currently being followed and supported by the National PTA Legislative Agenda. Below is more on the Youth Advocacy Summit.
Madison and Victoria were able to meet with Representative Seth Moulton's staff and Senator Warren's staff to discuss the issues that most impacted them: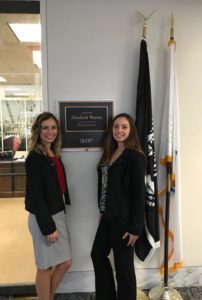 Bill S. 3427: Elementary and Secondary School Counseling Act                   A bill to effectively staff the public elementary schools and secondary schools of the United States with school-based mental health services providers.
Related Bill: HR 6775: Elementary and Secondary School Counseling Act
Unfortunately Senator Warren's staff told them that she would not sign on to this bill because she felt it didn't provide enough funding. Representative Moulton's staff was extremely warm and agreed that he would support this bill. It was a wonderful experience for both Madison and Victoria and has reinvigorated them to continue to work advocating for issues that affect all youth and families. 
Youth Advocacy Summit Description:
National PTA selected 9 PTA members ages 18 – 22 from across the country to attend National PTA's Youth Advocacy Summit.  Each attendee went through a selective nomination process where they were required to describe their advocacy efforts and demonstrate how they have positively affected policy change in their communities.  Each selected attendee has demonstrated a commitment to advocacy that aligns with National PTA's public policy priorities and mission to make every child's potential a reality.
The Youth Advocacy Summit is intended to develop attendees' advocacy skills through advocacy skills-building workshops and meetings with policymakers and their staff.  Attendees will be trained on advanced advocacy strategies and have the opportunity to practice these strategies during a Hill Day where they will meet with members of Congress and their staff to tell their education story and describe their advocacy efforts. Attendees will also have networking and professional development opportunities throughout the summit.  For example, as a part of Hill Day, attendees will be able to attend a panel discussion of congressional staff where they will hear about staff's experiences working on the Hill.