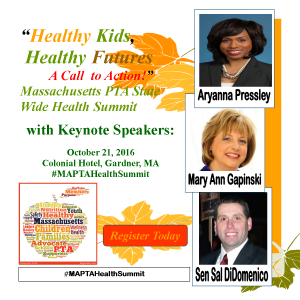 The Massachusetts Parent Teacher Association (Massachusetts PTA) is proud to broadcast and invite you to the first "Healthy Kids, Healthy Futures; A Call to Action!" Summit. The conference will be held on October 21, 2016 at the Colonial Hotel, 625 Betty Spring Road Gardner, Massachusetts. We are excited about this first ever Massachusetts PTA Health Summit. This exceptional audience of parents, educators, health and wellness experts, health and civic organizations, community members/leaders, elected officials and Massachusetts PTA Partners from across the Commonwealth will gather to discuss, learn and take action to keep our children, families and communities healthy.
Massachusetts PTA represents hundreds of PTA Local units and members across the Commonwealth. We are dedicated to promoting effective health education programs and services in schools, families and communities in order to offer children, youth and families the skills, tools and abilities they need to make healthy choices.
To this end, the Summit will offer many workshops, panel discussions, round table discussions, question and answer forums and so much more. We have leading experts presenting all of this in 10 workshops though out the day. Professionals from Department of Public Health, Middlesex Partnerships for Youth in the Middlesex District Attorney's Office, WGBH, Department promoting Learning for Children, Parents and Educators, Massachusetts Safe School Program for LGBTQ Students, BOKS , New England Dairy and many  more informed and acclaimed specialists.
In addition to this we will have MaryAnn Gapinski, Director of School Health Services for the Massachusetts DPH; Ayanna Pressley, Councilwoman –at –large of the Boston City Council, Massachusetts Senator Sal DiDomenico as keynote speakers . We will be also having National PTA Leaders as Speakers. This really should be a wonderful opportunity for you to learn, network, meet new contacts and bring so much back to your communities. You will not only have opportunities to network in trainings but over Breakfast and Lunch as well in the Exhibitors and Vendors Hall!
A large attendance is expected to participate in this conference, including our colleagues from the greater New England PTA States as well as National PTA. We are really encouraging you to bring your PTA members, leaders, educators, community people, health experts and others from your communities. We know that your participation will enrich this opportunity as well as learning from it. You will get to meet and talk with exhibitors, vendors and sponsors.
Don't miss out, Register today! Go to www.masspta.org for all the details, cost, specials and registration.
We hope you will join us at the Massachusetts PTA "Healthy Kids, Healthy Futures; A Call to Action!" Summit held on October 21st, 2016 at the Colonial Hotel in Gardner, MA.
Please support your local PTA, State and National PTA by attending the Massachusetts PTA "Healthy Kids, Healthy Futures; A Call to Action!" Summit
For more information and Registration, Contact:
Jackie Coogan
Massachusetts PTA Health and Wellness Chair
617-851-5382
jmincoogan@comcast.net