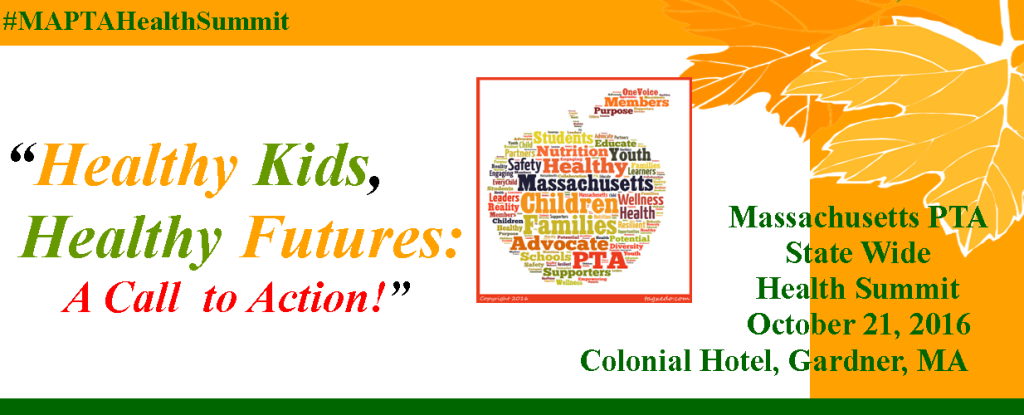 ---
Sessions – 2016 Health Summit
You will come to Gardner knowing what you do at your school and PTA. But you will leave Gardner thinking healthier about the possibilities for your school and PTA, as well as your own leadership abilities.
Workshops will deliver proven ways to:
Communicate effectively with all stakeholders
Engage and empower parents to support student success and overall well-being
Advocate for the needs of every child in your school, community or state
Develop partnerships that support growth and mission implementation
Plan Your Workshop Itinerary
Browse the catalog of workshop sessions below to plan your itinerary. All workshops will be open seating.
9:45 – 11:00 a.m. Session A Choice

Session 1:

 Gender Identity & Expression: Creating Safer Schools-Moderator, Devin Armstrong:Panel Members: Ilene Sharp, Dr. Erik Champy, Jeff Perrotti  A conversation about creating school communities that are safer and more inclusive for all members of the school community. Terminology, resources, the gender unicorn and best practices around LGBTQ+ people and the school setting will be discussed.

Session 2: 

Promoting Prosocial Skills and Reducing Bullying among Elementary Grade Students Using New Digital Tools from ARTHUR-Mary A. HaggertyFor 20 seasons, the characters on ARTHUR have helped to prepare children for school and for life by focusing on key issues that are relevant to their everyday experiences. Come hear from education staff from the WGBH Educational Foundation about new digital tools that focus on social and emotional learning and anti-bullying strategies, timely topics in today's elementary schools and afterschool programs.

Session 3:

 Move to Improve: Quality Health & Physical Education Programs for Your Child IS a Necessity to Learning! Maria Melchionda, Claudia Brown, Sarah Sparrow BenesLearn about the importance of quality health and physical education programs for your child and how they enhance the academics as integral parts of the core curriculum. Opportunity to learn, meaningful content, and appropriate instruction are the three components of quality physical and health education programs. With these components in place, students improve mental alertness, academic achievement, and enthusiasm for learning. Learn how these programs can positively impact wellness within the school community.
Session 4: Dating In a Digital World-Stephanie GuyotteDating In a Digital World -This hands-on workshop provides an overview of teen dating abuse, with a focus on the digital world. Participants will learn the ways social media and online behavior influence today's dating relationships, including sexting.  The presentation will include information on good digital citizenship and staying safe online. The workshop provides activities to bring information on healthy relationships into the classroom.  Videos from Middlesex Partnership for Youth (MPY) teen dating series are shown.

Session 5:

 Anti-Bias Education: Pathway to Preventing Bullying and Building Resiliency-Phil Fogelman This engaging workshop will explore the ways in which anti-bias education empowers adults, children and adolescents to recognize and address all forms of prejudice and manifestations such as bullying and cyber bullying; support those who are targeted with hurtful behaviors; and actively  promote an inclusive learning environment in which human differences are respected and valued.
11:00 – 12:00 a.m. Session B Choice
Session 6:

 Active Kids=Active Minds: PA Before/During School to Boost Student Achievement-Laura BuratiActive Kids=Active Minds! Join us for an interactive session to learn about BOKS (Build Our Kids' Success) and how schools can empower volunteers to provide physical activity opportunities to students before school, in the classroom, and during recess!  BOKS provides free evidence-based curriculum, program support, and training for schools to enhance student performance through integrating physical activity into the day. We practice what we preach, so come prepared to get moving and have some fun!
Session 7: What Parents and Students Need to Know: Proper Response and Management for Sports-related         Concussions-Linda Brown/Kathleen Thornton In this session, Linda Brown MBA, the MDPH Program Coordinator of Sports Concussion Activities will provide an overview of the Department of Public Health's sports concussion regulations, parents' responsibilities under the regulations and DPH's clinical and policy guidance to schools when a student has been injured from a sports-related head injury.  Kathleen P. Thornton, MS, LAT, CSCS a Team Leader and Athletic Trainer with Southcoast Hospitals will discuss the crucial role that proper concussion education plays in the recognition and management of concussions.  She will also discuss the treatment of concussion and the gradual return to sport for the concussed student.

Session 8:

Fueling the Future: Giving Children the Nutrition They Need to Learn & Grow-Erin Wholey, RD, LDNGood nutrition can fuel a lifetime of success, but 1 in 5 children in America doesn't get the food they need each day.  This session will provide tips for feeding children at home and in schools, while exploring ways you can increase access to healthy foods in your community through resources like the School Breakfast and Summer Food Service Programs. Hunger exists in every community. Help make sure ALL students have the nutrition they need to learn and grow!

Session 9:

Gender Identity and Expression: A Personal Perspective-Jeff PerrottiThis workshop will feature students and parents speaking about laws, policies, and best practices for supporting transgender and gender nonconforming students.

Session 10:

A Parent's Guide to Being a Vaccine Advocate

–

Rebecca VanucciThis presentation will outline ways that parents can become vaccine advocates in their community. The presentation will include information on the benefits of vaccination, common myths about vaccines, school immunization and exemption data, how to find your local school's immunization and exemption rates, and effective communication strategies to support vaccines.


---