We wanted to start off by saying thank you to all who were able to make it to our Annual Meeting on Thursday, May 14, 2020! If you were not able to attend, we understand how crazy life can be, especially during this time. Below you will find a recap of the meeting and don't forget to check out the award winners!

Click here to view the slideshow presentation we put together to honor the Local Unit, Membership and Volunteer award winners this year!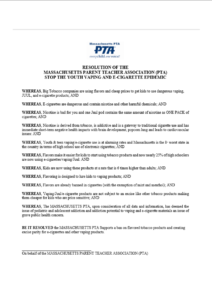 The Resolution of the Massachusetts Parent Teacher Association (PTA) Stop the Youth Vaping and E-Cigarette Epidemic shown here was passed.
The Massachusetts PTA officers for the 2020-2022 term were elected and installed! Taking office on July 1, 2020,

President: Madison Estes
President-Elect: Karen DeRoche
VP of Leadership: Kathresha Cureton
Treasurer: Fran Guardabascio
Secretary: Cate DeCosta
The fiscal year 2019 audit was approved.
Check out the program book to learn about Massachusetts PTA's work and see what great achievements the award winners accomplished!
We thank you all for your continued support of Massachusetts PTA and are so thankful for your dedication to our mission "to make every child's potential a reality by engaging and empowering families and communities to advocate for all children." Don't forget to check out all the fabulous resources National PTA has to offer on their website: www.pta.org.
Stay safe, and stay well! We hope to "see" you again in the near future!
---
MA PTA Call To Convention:
Due to the current health situation, stay at home orders and prohibition of in-person meetings, the annual meeting of the Massachusetts PTA will be held, via video conferencing on Thursday, May 14 from 7:00-8:00 pm
In order to conduct the necessary business of our association, we need a quorum of 25 members. That business will include:
Election of new officers
Approval of resolution
Approval of auditor's report
Recognition of local unit, membership and Reflections award winners
Nominated Slate of Officers
President-elect: Karen DeRoche
VP of Leadership: Kathresha Cureton
Treasurer: Fran Guardabascio
Secretary: Cate DeCosta

RESOLUTION OF THE MASSACHUSETTS PARENT TEACHER ASSOCIATION (PTA)STOP THE YOUTH VAPING AND E-CIGARETTE EPIDEMIC
We will accept nominations from the floor. Please note that the office of president-elect requires that nominees have served 2 years on the Massachusetts PTA board or one of its committees.

Please register so that we can verify your status as a member. Once verified, you will be sent the meeting login information which will be unique to you.

THERE IS NO CHARGE TO ATTEND THIS MEETING.
We thank you in advance for marking this important event on your calendar and making it a point to be in attendance!