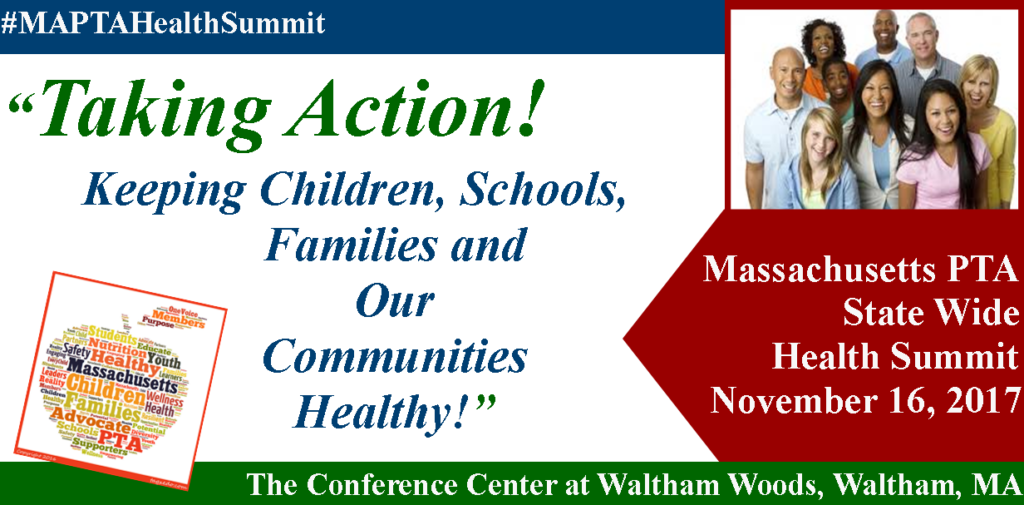 ---
Speakers – 2017 Health Summit
---
Morning  Speakers

Jennifer Francioso, Massachusetts PTA President
Jennifer Francioso lives in Methuen with her husband, Joseph. They are the parents of a fourteen-year old daughter. Jennifer has served on the State Board since 1991 with a brief break during 2007. She has served as Newsletter Editor, Secretary, Treasurer, Financial Secretary, and President-elect. Jennifer is a second Generation Massachusetts PTA president! Her mother, Margaret Olivieri, served from 1991-1993. 
---
James L. Accamondo, National PTA President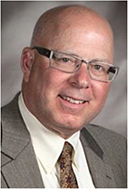 James L. Accomando was elected and installed on the National PTA® Board of Directors at the June 2013 National PTA Convention. Currently president of the CT PTSA, a member of the National PTA Standards of Affiliation Committee and the Connecticut Coalition for Public Schools, Accomando was instrumental in the Snow Flakes for Sandy Hook Elementary School Healing Initiative and has contributed generously to the Our Home, Our Legacy, Our Future Donor campaign.
Prior to his election, Accomando served on the CT PTSA Board & Executive Committee and was a board member and executive at both Holland Hill Elementary School and Tomlinson Middle School. Accomando's experience with every aspect of public school education —he is the parent of 2 public school children and the husband of a public school teacher with a K-12 teaching credential of his own —coupled with his experience as a small business owner makes him an ideal board member.
Accomando has chaired and given keynote addresses at widely recognized conferences worldwide. He frequently conducts workshops on the latest trends in financial services and is a sought-after industry source contributing to many noted national and international publications. His dedication to service includes memberships in both civic and professional organizations.
Community is especially important to Accomando, who coached youth hockey, soccer, baseball, basketball and swimming and has been involved with Americares, Junior Achievement and was a YMCA Guide. Once an Eagle Scout, he remains an executive board member and VP of finance for the Connecticut Yankee Council of the Boy Scouts of America as well as an assistant scout master and high adventure coordinator of Troop 82 in Fairfield. He is a proud recipient of the Triple Crown High Adventure Award from the Boy Scouts of America.
Accomando serves on the board of finance of Fairfield's First Congregational Church and on the finance committee of its History Museum. His previous experience includes serving on the boards of the Black Rock Yacht Club (as treasurer) and the Fayerweather Yacht Club (on the property development committee), as well as the US Power Squadron. An avid outdoorsman, Accomando is a guide/Instructor with the Mill River Wetlands Association and the CT Audubon Nature Explorers.
Accomando received his MBA, with an emphasis in finance and marketing and a BA from the University of California at Santa Barbara. He is president of Accomando Consulting, Inc. (ACI), a leading management and marketing information consulting company and has more than 20 years of financial and commercial experience. He and his wife Wendy, a second grade teacher, live with their son A.J. and daughter Olivia in Fairfield County, Connecticut.
---
Erin Wholey
Erin Wholey is a registered dietitian at the New England Dairy & Food Council (NEDFC).  She started her career at Boston Children's Hospital, and has been working at NEDFC for 6 years.  She has a degree in Dietetics from the University of Illinois Urbana-Champaign and completed her dietetic internship at Beth Israel Deaconess Medical Center in Boston.  Erin works with schools across Massachusetts through Fuel Up to Play 60, the nation's largest in-school wellness program.  A partnership with National Dairy Council and the National Football League, in collaboration with the United States Department of Agriculture, Fuel Up to Play 60 empowers students to lead healthy changes in their schools that increase access to healthy eating and physical activity.  Grants are available through Fuel Up to Play 60 to help schools make healthy changes. Erin loves seeing the increased  confidence in students when they gain leadership experience through Fuel Up to Play 60 and start making healthier choices for themselves and their schools!
---
Erik Champy Ed.D
Dr. Champy is Vice President of the Massachusetts Teachers Association. Dr. Champy has been an educator for more than 25 years in public education. His experience spans from preschool through graduate school. Erik has served as a teacher, guidance counselor, student teacher supervisor, and adjunct professor. He has served as the President of the Massachusetts PTA, President of the Salem State University Alumni Association, and State Director for the National Education Association. Participating in the 2017 MA PTA Health Summit as both a Speaker and a Presenter.
---
Jessica Minahan, MEd, BCBA
Jessica Minahan, MEd, BCBA, is a licensed and board certified behavior analyst and special educator, as well as a consultant to schools nationwide (www.jessicaminahan.com). Jessica has over seventeen years of experience supporting students who exhibit challenging behavior in urban public school systems.  She is a blogger on The Huffington Post, as well as the author of The Behavior Code: A Practical Guide to Understanding and Teaching the Most Challenging Students, with Nancy Rappaport (Harvard Education Press, 2012) and author of The Behavior Code Companion: Strategies, Tools, and Interventions for Supporting Students with Anxiety-Related or Oppositional Behaviors (Harvard Education Press, 2014).
---
Afternoon Keynote Speakers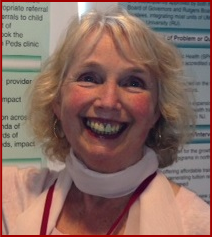 Dr. Katherine Grimes, M.D., is a child psychiatrist and children's health services researcher, and is the Director of the Children's Health Initiative, at Cambridge Health Alliance. Previously the PI for the long-running study of an innovative "Mental Health Services Program for Youth" system-of-care, launched by the RWJ Foundation, Dr. Grimes has an MPH from the Harvard T.H. Chan School of Public Health and is a former Faculty Research Fellow at the Kennedy School of Government. In 2016, the American Academy of Child and Adolescent Psychiatry honored her with "Distinguished Fellow" status for her contributions on behalf of children with mental health needs. Her experience with integrated care in the public sector has led to her health policy focus on improving mental health treatment access and quality for children and adolescents, as well as on expanding work-force capacity. Dr. Grimes' work as PI on studies funded by the BCBS Foundation, featured shared training by pediatric residents and child psychiatry fellows, fueling a new undergraduate medical education initiative in integrated care for children, via the HMS-Academy. Her training efforts include a public health approach, intended to promote cost-effectiveness by recognizing those with childhood trauma, or other social determinants of health, that may place them at greater risk for mental health outcomes disparities. Dr. Grimes is currently the PI for a multi-year SAMHSA grant to the Cambridge Public Health Commission, working alongside the state's child serving agencies to enhance systems of care for vulnerable children and families. In addition to her HMS faculty role in child and adolescent psychiatry training, she serves as a preceptor for students from both the Harvard TH Chan and the Tufts Medical Schools of Public Health.
---
Session Presenters:
Shannon Ashcroft is the Massachusetts State Coordinator for Action for Healthy Kids. In addition to AFHK, Shannon now works as a Corporate Wellness Consultant and Wellness Coach. She received her B.S. in Exercise Physiology and M.Ed. in Health Promotion and Disease Prevention. Previously Shannon worked as a fitness instructor at Canyon Ranch in Lenox, MA and then as the Wellness at Work Coordinator at Berkshire Health Systems. Shannon is passionate about making healthy behaviors accessible and realistic for everyone. She works with AFHK to fight childhood obesity; undernourishment and physical inactivity by helping schools become healthier places so kids can live healthier lives.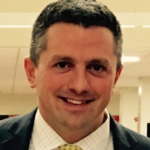 Dr. Michael Baldassarre is a lifelong educator with more than twenty years of experience in working with children, young adults, and families.  Working in schools he has held the positions of Special Education Teacher, Principal, Director of Special Education, and Superintendent of Schools.  He is one of only 36 professionally registered instructors (worldwide) of Therapeutic Crisis Intervention for Families (TCIF), Therapeutic Crisis Intervention for the Developmentally Disabled (TCIDD), and Therapeutic Crisis Intervention for Schools (TCIS) by Cornell University's Bronfenbrenner Center for Translational Research. Dr. Baldassarre currently serves the Everett Public  Schools as Director of Special Education.  With more than 1,100 students educated under the Individuals with Disabilities in Education Act (IDEA), he has devoted his service to improving outcomes for children and young adults by addressing their social and emotional needs in school.
Camila Barrera is the Prevention & Education Coordinator for Middlesex Partnerships for Youth. Camila has an extensive background in prevention, with expertise in domestic violence and sexual assault prevention. Camila was the Coordinator for the Youth Access to Support and Services Project, she received the Innovations Award given by the Massachusetts Office of Victims Assistance in 2016. Camila is a pursing her Master of Social Work through Simmons School of Social Work.
Monique Bellefleur, Ed.M is a two-time alum of Boston University. Monique graduated first with her B.A. in Psychology and then with her Ed.M in Clinical Mental Health Counseling. She has clinical experience in the fields of suicide prevention, psychiatric rehabilitation, and eating disorder treatment. As a clinician & Director of Community Education at MEDA, the Multi-Service Eating Disorders Association, Monique works clinically with clients through eating disorder support groups, assessments, skills sessions, and coachings for parents and loved ones in addition to managing MEDA's Education & Awareness program that offers free presentations to the community on eating disorders and building body confidence.
Linda Brown has been the Program Coordinator for the Head Injuries and Concussions in School Concussion Initiative at Mass. Department of Public Health (DPH) for the past five years and works on all implementation activities of the MDPH sports concussion regulations.  These activities include drafting concussion model policies for schools, providing technical assistance and outreach to schools and health care providers, performing data collection and analysis, participating in program evaluation, preparing educational materials and organizing and conducting online and in person trainings for stakeholders, hospitals, parents and schools.  She also runs the DPH Youth Sports Concussion Advisory Group. Prior to working at DPH, Ms. Brown had worked in program, contract, regulatory and financial management in health care, non-profit and government organizations for over 3 decades.
Laura Burati is the Program and Training Manager for an internationally known physical activity program that is getting kids moving all over the world!  When Laura is not traveling around the country leading trainings to educate about the importance before school physical activity (and BOKS), she teaches the program at her local Massachusetts elementary and middle schools. She believes it is crucial to make fitness fun for kids, so they develop healthy lifelong habits, a passion that is evident in the BOKS curriculum Laura created.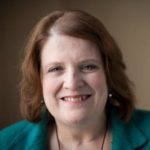 Eileen Dern, RN, CES has been a registered nurse for 42 years, and devoted much of her career to a simple but powerful philosophy—to make lasting improvements in the health of a community requires, above all, a willingness to build and nurture partnerships between healthcare providers, civic and school leaders, public safety officials, and other community agencies. Together, these partnerships can, with local residents, identify and address the full spectrum of issues impacting health and wellness. Eileen has been the Director, Community Services for Hallmark Health System since 2009. Prior to working at Hallmark Health System, Eileen was a Program Specialist for the U.S. Department of Agriculture in the Food and Nutrition Division and has also worked as a Program Resource Specialist for the Healthy Families Massachusetts Program.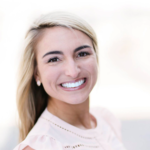 Nicole DiBitetto is the Boston Area Coordinator for BOKS.
After receiving her BS in Nutrition from Boston University and her Med UMASS, Nicole has devoted her life to educating students about the importance of being physically active and eating a well-balanced diet. Currently, she oversees programming in 60 schools in the Boston area and loves nothing more than seeing BOKS kids moving and having FUN! Outside of BOKS, Nicole loves to dance, cook, and spend time with family and friends.
Helen Gaynor is the Education and Outreach Lead at the Foundation for Advancing Alcohol Responsibility, where she works to develop alcohol education content for the organization's longstanding program, Ask, Listen, Learn: Kids and Alcohol Don't Mix. In addition, she manages the program's partnerships and stakeholder outreach, researching ways to effectively reach parents, teachers and administrators. Before joining Responsibility.org, Helen worked as a high school health educator in Washington, DC, as well as in academic research. Helen studied at the George Washington University, earning a degree in Anthropology and International Affairs with a Global Public Health Concentration.  To learn more, visit Responsibility.org.
Sheila Gillin is a licensed clinical social worker and a certified child and adolescent psychotherapist with over fifteen years of experience in the mental health field.  Sheila obtained her undergraduate degree in Psychology from the University of Delaware and a Masters of Social Work from Bryn Mawr College Graduate School of Social Work and Social Research. Sheila serves as the Clinical Director for Minding Your Mind.  In this role, Sheila serves as a clinical program trainer and a mental health consultant.  In addition to her work with Minding Your Mind, she has a clinical counseling practice where she provides individual, family and group counseling to a broad range of clients including adults, adolescents and children.  Her areas of clinical practice include depression, grief/loss, anxiety, relationship and transitional issues.
Michael Henry is an active member of the Manthala George Jr. Elementary School PTA a K-5 in Brockton, Massachusetts with 900+ students.  In 2016, Michael became President of the George School PTA while continuing to chair the Sponsorship/Partnership Committee.  Michael is a proud husband and father of two children, son Tyler age 21 and daughter Dominique age 9, who are the reasons why he became more engaged in education.  Michael believes that our children's "future is our business," in which he tries to instill with the parents.  In addition, Michael currently volunteers on the Massachusetts PTA Health & Wellness Committee, President of the Bridgewater State University Afro-American Alumni Association, and Board Member of the Bridgewater State University Alumni Board while working as a Project Manager Consultant.  Michael has also served on the boards of Young Professionals Network of the Urban League of Eastern MA, Massachusetts Hall of Black Achievement (HOBA) and Boys & Girls Clubs Medford & Somerville (formerly Boys & Girls Clubs of Middlesex County).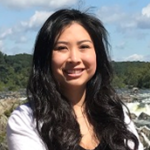 Lisa Jackson, MS RD LDN With a passion for food and a fascination for its ability to bring people together, Lisa completed her undergraduate and graduate studies in nutrition at the University of Rhode Island and became a dietitian.  Lisa began her career inspiring children that living healthy can be both fun and tasty through the delivery of nutrition education and food experimentation with Rhode Island's SNAP-Education Program.  After many years of switching gears and focusing on clinical nutrition at multiple hospitals, Lisa was determined to return to public service and found her way to Massachusetts ESE and its nutrition education and training unit.  As an educational specialist in nutrition and school wellness, Lisa collaborates with colleagues to develop and conduct trainings that inform and embolden communities to deliver delicious and nutritious meals to children everywhere.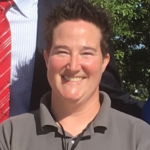 Michelle Kelly has served as the Head Athletic Trainer for Somerville High School  for the past 10 years.  She developed a district wide concussion policy and serves as the  District Coordinator for Concussion Management.  This unique position allows her to help both families and students navigate their recovery process, as well as providing teachers and staff with a better understanding of how to best support their students. Her passion to improve the health and well being of all students is evident in the constant dedication to create best working practices for the community. Establishing a positive rapport with student athletes, parents, coaches, physicians and school personnel is key to her success. Currently she is working with the Health Careers program at our Center for Career and Technical Education to establish a student ambassador program to further enhance educating parents and students within the community.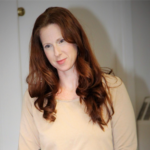 Lindsay Lucarelli, M.S., RYT-200, RYCT-95 is the creator of Twisted Kids Yoga™, a movement and mindfulness program that is committed to developing yoga-based curriculum accessible for all children of all abilities. Lindsay has been anchored in the world of body movement and examination through 15 years developing products for New Balance, Puma, L.L. Bean, and Patagonia – in addition to being an indoor cycling and group fitness instructor. Yoga became a language of play, connection, and redirection when Lindsay integrated yoga-based movements with her son when her family was told he would never hear. Through this experience, Lindsay recognized the value of yoga movement to manage everyday stressors for children of varying abilities – seeding the mission of TKY. Lindsay Lucarelli is a School Consultant, Guest Lecturer, RYT-200, RYCT-95, and certified as a Creative Relaxation® Level 2 trainer, Level 2 ChildLight Yoga, and trained in OmAbilities® – Yoga for Teens and Adults with Special Needs. She has expanded yoga and relaxation study for children with Autism, ADD, Anxiety and other special needs. In addition, Lindsay offers adult-focused yoga classes and is a 10-year certified MOSSA group fitness instructor. Lindsay holds a Masters in Science from Simmons College and a Bachelors of Science from the University of Massachusetts – Dartmouth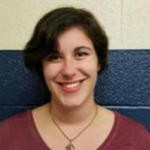 Alicia McCarthy is a Cleaning Laboratory Specialist at the Toxics Use Reduction Institute (TURI) in Lowell, Massachusetts. Her work includes assisting Massachusetts companies with finding safer alternatives for both janitorial and industrial cleaning. Alicia has a BS in Environmental Health and an MS in Occupational and Environmental Hygiene from the University of Massachusetts Lowell. Alicia has presented at national conferences and local organizations on green chemistry and cleaning. In 2016, she won the National Most Valuable Student Pollution Prevention (MVP2) Award. Alicia is passionate about empowering both scientists and citizens with the knowledge and resources to create a more sustainable, healthy world.
Kathleen "Kate" Millett is formerly the Executive Director of the Office for Nutrition, Health and Safety Programs and the Center for Student Support at the Massachusetts Department of Elementary and Secondary Education. She directly oversaw the Child Nutrition Programs and Coordinated School Health Programs in Massachusetts schools and other community settings. Kate is a licensed dietitian nutritionist in MA and served on the MA Food Policy Council. She served as state agency director representative on the national board of directors of the School Nutrition Association. She served on the US Department of Agriculture's Professional Standards Task Force. Over thirty plus years, Kate has continued her commitment to children and families through work with key stakeholders to expand the child nutrition programs and connect allied partners and organizations to reach those in need. Through collaboration with the John C. Stalker Institute of Food and Nutrition, in her position at ESE, Katie supported advancing the education and professional development of child nutrition professionals statewide.
Erikka Moreno has her degree in Human Biology from Stanford University with a focus on Health, Nutrition, and Human Performance. Before joining BOKS, Erikka worked for HealthCorps, promoting healthy lifestyles to high schoolers in Los Angeles, CA. Erikka started with BOKS supporting local Boston programs, and transitioned into managing nationwide outreach, school engagement and events. As a college athlete, Erikka loves staying active and is a certified CrossFit Level 1 and CrossFit Kids Trainer.
Jeff Perrotti is the Director of the Massachusetts Safe Schools Program for Lesbian, Gay, Bisexual, Transgender, Queer and Questioning (LGBTQ) Students, an anti-bullying initiative of the Massachusetts Department of Elementary and Secondary Education (ESE) and the Massachusetts Commission on LGBTQ Youth. He is the co-author with Kim Westheimer of the book, When the Drama Club is Not Enough. Jeff has conducted numerous workshops on gender, sexual orientation, and school climate for school administrators, counselors, nurses, coaches, teachers, parents, and students.  Jeff facilitated the development of ESE's pioneering Guidance on Gender Identity and has assisted many schools and families in orchestrating a thoughtful, comprehensive, and successful process where students have transitioned their gender.
Matthew John Rodriquez is an active and committed public servant, championing the well being of ALL children, particularly the most vulnerable. Matthew's volunteer and civic engagement efforts, including 17 years volunteering with local, regional, and state PTA units, has focused on particular issues facing youth in the juvenile justice system and those suffering from bullying. In his current role as President of the Illinois Parent Teacher Association, inclusion and diversity are at the forefront of his platform. He currently represents IL PTA on over a dozen state and federal committees and councils including the Illinois Advisory Council on Bilingual Education. He is the Governor's P-20 Family Engagement Committee Chair, and the LULAC Vice President of Youth for the state education chapter. Matthew is the proud father of two son's Mateo and Joshua, ages 22, and 7, who are the reason why he became engaged in education. They are also his inspiration for advocating on behalf of ALL children and families by empowering other parents to do the same. In addition to his passion for the community, Matthew is a skilled mechanic, fixing just about anything that moves – from planes, trains, and automobiles, to construction equipment. He has worked in aviation for 25 years and currently manages the aircraft maintenance-planning department at United Airlines. He also serves as the chair of Latin American Affairs for United as part of their multicultural business resource group.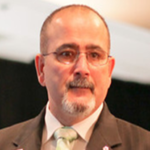 Juan San Miguel currently owns Louisa's Legacy providing Care Coordination, Private Guardianship, Conservatorship, and Trustee services to vulnerable adults and the elderly in Alaska. He is often contacted by fellow professionals to assist in complex cases as well as request for assistance from family members of people looking for home and community based services for their loved ones. Juan takes pride in helping people in his community. Juan graduated from Bethlehem Catholic High School, Central Texas College (Associate in General Studies), and Alaska Pacific University (Bachelor in Organizational Management).  He has attended Leadership Anchorage as well as numerous leadership courses in the military.
Kathleen Thornton currently serves as an Athletic Trainer and the Team Leader for Injury Prevention / Ergonomics / Occupational Health at Southcoast health System in New Bedford Massachusetts. As part of that role, she provides Athletic Training outreach services to various high schools, as well as, supervises 11 Athletic Training outreach sites. Prior to taking on this role, she spent 25 years as the Athletic Trainer at Bishop Stang High School.  Over the past 6 years she has presented on the topic of concussions numerous times to the public, educators, school nurses, as well as physicians.  Kathy is also approved by Massachusetts Department of Public Health to provide annual concussion education that meets state law requirements. She is also a member of a DPH Sports Concussion Advisory Work
Rebecca Vanucci is the Immunization Outreach Coordinator for the MDPH Immunization Program. In that role, Rebecca plans the strategic educational outreach to providers, patients, and the larger community about immunizations. She actively engages outside partners and stakeholders about immunization related topics. Rebecca coordinates the major pediatric and adult immunization conferences as well as the regional Immunization Updates. She is a member of many coalitions and working groups about increasing immunization rates in Massachusetts. Rebecca received her Master's Degree in the History of Environment, Technology, Health and Medicine from Rutgers University/NJIT.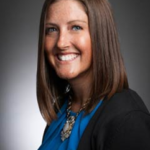 Erin Wholey is a registered dietitian in the Boston office and helps manage outreach and collaboration with New England Dairy & Food Council's partner organizations across New England; including health professional, school and government partners.  In this role, she assists staff in the development of continued education opportunities for partners, the creation of nutrition education materials and promotional resources, and planning special events or campaigns that help promote dairy as part of a healthy lifestyle. Erin also works with schools in Suffolk County, Massachusetts to help with the implementation of Fuel Up to Play 60, school wellness program that increases access to healthy foods and physical activity. Erin is a member of the Academy of Nutrition & Dietetics and is currently serving as Secretary-Elect for the Massachusetts Dietetic Association.  Previously, she served as Mentoring Chair.  She is also active in the Massachusetts School Nutrition Association and Massachusetts Action for Healthy Kids.
---